Well, it was so. We were sitting with Golek at the Baltic seaside, kids were playing around, wives sunbathing, the sun was shining. Oh, it was shining so much. Probably too much for us because we started thinking what to do in this beautiful holiday time, so free from work. - "What do you mean ? Let's work!".
Golek took his violin (he goes nowhere without them) an I had my microphone (the same). He was moaning, scratching, scraping, knocking, tapping, squiling ... and I was recording all that stuff .
After coming back home from that "active" rest I took up cleaning, dirtying
,
processing, assembling of what we brought from our beautiful sea. It was a point of honour not to add any sound "from myself". Only sounds of Golek's violin but sometimes mercilessly ploughed with my PC.
After plouging shallow and deep, six pieces gave off. I've spent few years thinking on the orginal name for each of them. Finally, I managed to find the words. The first one I called Etude 1, second Etude 2, third Etude 3, fourth Etiuda 5 (since I made a mistake), fifth Etude 4 (to cover up my mistake), and the last one Etude 6.
Thus

Etudes 1-6

known since that time

suggestive

came into being.
J.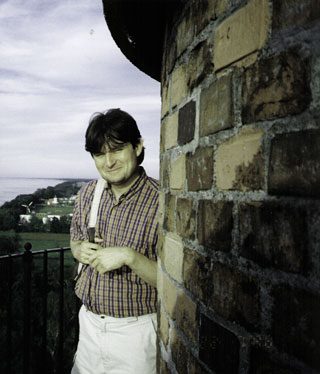 Golek (Aureliusz Goliński) with Mielnik in the background.